Jenn Chapman
REALTOR, B.A., M.S.
(850) 459-2932
---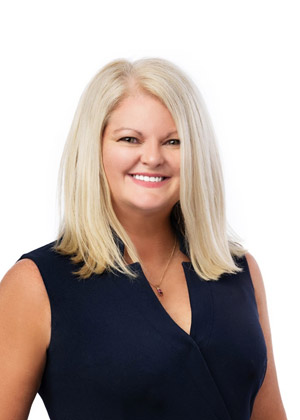 Jenn has been a dedicated real estate professional providing assistance to people from all walks of life for more than a decade. Jenn moved to Tallahassee in 1998 to obtain a graduate degree from Florida State University. While working as a medical speech-language pathologist she listened as friends and family related their many real estate nightmares. She entered the real estate profession full time 10+ years ago with a determination to provide people with a positive experience when buying and selling. Today, over 80% of her business comes from referrals from past clients/lifelong friends who describe her as a great communicator and problem solver. Jenn enjoys outdoor recreation and photography. She is the founder and executive director of Boxer Aid & Rescue Coalition, a 501(c)(3) non-profit, all-volunteer organization that saves several hundred shelter dogs each year.
Testimonials
Jenn is an absolute GEM of a Realtor. I bought my first house a few years ago through her and now have sold the same using her services. She responded immediately to all my questions as a first time seller and helped navigate an ever-changing market seamlessly.
~ Sarah Dittman
Jenn made the whole process of finding and buying a house so easy. She was always available to answer questions, schedule a viewing for a house , and lining up inspections. I couldn't have had a better person helping me. I would definitely recommend her to family and friends.
~ Katie Allen
We have had Jenn represent us in three real estate transactions (with a 4th on the horizon). She is professional, honest, funny, fast, a GREAT communicator and smart. Buying a home is such a stressful time. Jenn was able to keep me calm and make the process seem "easy." Her integrity and humor saved the day on more than one occasion. I gave Jenn 5 stars only because 10 stars was not an option. Jenn maintains solid relationships throughout Tallahassee and if you need help with anything – she knows someone who can help.I would recommend Jenn Chapman all day long!!
~ Dawn Jones
From start to finish Jen was incredible! My wife and I were first-time home buyers and Jen took the time to answer any and all of our questions and made sure we were comfortable before moving forward with each step. A few challenges came out of inspection, and Jen took care of it all in no time to keep us on schedule. She got us in our dream home, and we couldn't have done it without her!
~ Kody Johann
Jenn was my third realtor during my two year journey to find the home for me. After meeting with her I knew she would be the one to find me a house. When I found a house on realtors.com I immediately texted Jenn and asked her to get us in to see it. She worked so hard that day to get the paperwork ready for our offer. She was always there for me and she always answered my questions or found someone who could. She gave me pep talks when I was feeling like I wasn't going to get my house. This is one lady I would highly recommend to anyone who wants to be successful in finding and buying a house. She goes the extra mile for her clients!!!
~ Peggy Adeshina
My journey with Jenn Chapman was wonderful and she was a terrific lady to have representing me! From start to finish she was open and honest with me. Two things that a homeowner needs when going through the stressful process of selling and buying a home. Jenn guided me through the process and helped me sell my home of nearly twelve years and purchase my new home. With my crazy schedule to work around, she made herself available to me 24/7 for showings and always responded immediately to all my questions and concerns, no matter how trivial they might be. Jenn had a wonderful sense of humor; was a pleasure to work with and made me feel that I was her only client.
~ Sonja Watson
Jenn helped us 5 years ago purchased our first home and then just recently sold our home. She was an absolute dream to work with on both sides! She gave us advicewhen we were needed it and always had someone local to suggest when we neededhelp a service. We always suggest Jenn to our friends and family who are looking to buy or sell. We couldn't recommend her more!
~ Jamie Honerlaw
Jenn was fantastic to work with! Knowledgeable, professional, intelligent, and much more. She made our purchase effortless and was our solid guide throughout the process. Her personality is easy, breezy, beautiful! Always calm, kind, and with a smile, we can't speak highly enough of Jenn.
~ Carolyn Kocher
Jenn was amazing! Not only was she able to price the house competitively, we were able to get a full price offer in just 2 days. She had excellent suggestions for insurance brokers, lenders, lawn maintenance professionals and handymen. Couldn't ask for a better agent.
~ Jason Harris
Jenn is absolutely amazing! She made it easy from the start. As a first time home buyer you're scared and don't know what to expect but she is so knowledgeable and helped us every step of the way. We were so blessed to have her as our agent.
~ Danielle Brown
My husband and I were looking for our first home and needed someone that was patient, professional, understanding and knowledgeable. We had spoken to a few realtors, and they were nice, but not the right fit for us. We then had a family friend suggest Jenn from Armor Realty. At our first meeting we clicked. She was always willing to help with any questions or concerns we had and she wanted to make sure that we found out first home and loved it. We never felt pressure to settle on a house and she was readily available to address any concerns that might arise. She truly wanted to make sure that we found our home, not just a house. It was never just about a sale, but actually about getting to know us and helping us to find something we loved. I would recommend Jenn to anyone looking for their new home. She was a pleasure to work with and very helpful!
~ Joe and Stefanie Svisco
Working with Jennifer Chapman at Armor Realty exceeded all of my expectations. Being an out of town buyer was challenging enough but I was looking specifically for horse property. Being a horse woman herself, Jennifer knew exactly what I wanted and where to direct our house hunting. Jennifer not only helped us find our dream home, but the property and community are a perfect match.
In today's market the lending process can be difficult to navigate. Jennifer recommended a lending agent who got us to closing with ease. While we would highly recommend Jennifer as a Buyer's Agent, we also had her list Chuck's home in Tallahassee and had an offer in the first week.
Whether you are buying or selling, stress levels and emotions are bound to come into play. Jennifer's clear, patient and out-of-the-box thinking helped get us to the next closing. Her connections to professionals from home inspectors to homebuilders was impressive. We highly recommend Jennifer and the Armor Realty team in finding your dreams.
~ Tami & Chuck Lester, Monticello, Florida
Jenn Chapman of Armor Realty was amazing. As first-time home buyers we were a bit overwhelmed at the start, but Jenn listened, gave us peace of mind, and helped us find the house of our dreams. She was easy-going and attentive to our needs and worked tirelessly on our behalf searching listings and scheduling appointments. Once we found the house we liked, Jenn guided us through the entire purchase from putting down an offer to signing the last of the paperwork. Being new to the whole process, it was nice to feel like we had a friend in our corner.
~Josh and Jill Goodwin
Jennifer Chapman is the best realtor! We had used realtors previously…and for what reason or another, buying a house never worked out. That is, until we got in touch with Jennifer. We were first time home buyers, & with Jennifer's help, we were able to find our perfect home. She never judged us on things we wanted or needed & she worked hard to find everything we wanted. While I know we were not her only clients, she treated us as though we were. We were never just another number or another way to make money…but more like friends than clients. I appreciated that more than she'll know. She came to closing, gift in hand, welcoming & congratulating us to our new home & our new life.
Will recommend Jennifer Chapman to anyone!
~Renee Taylor
Jennifer Chapman helped us find our dream home within a week, and move in a month later. She was extremely helpful with every part of the home-buying process, from targeting our search, to the negotiations, inspections and closing. She's knowledgeable, detail-oriented and a problem-solver. Thank you, Jennifer, you made our home-buying experience the best it could be!
~ Jackson Vann Gardner
So often one hears the phrase, "We're here for you." Jennifer Chapman is one of the few who makes that statement true. Her professionalism coupled with a determination to accomplish what is the best possible outcome for her client make her stand out from other realtors. Taking time to walk me through the process and keeping me informed every step of the way was invaluable to me as a first time home buyer.
~ Carolyn Veal
Jennifer Chapman went above and beyond for us. She was extremely professional, and an absolute pleasure to work with. I would recommend her to anyone; you will not find a person more willing to help make sure things go smoothly. Here's to letting you know….Jenn you are the best!
~ Adele Johns
Jennifer Chapman did a great job finding me the perfect home in the price range that I was comfortable with. She was easy to work with, and she also was very flexible as I have a hectic schedule with very little available free time. I would use her again and recommend her to a friend. Thanks again for everything Jennifer and I love my new house.
~ Will Whittle
Jennifer Chapman has a great work ethic. She really went toe-to-toe for us in our dealings with Fannie Mae and really helped us out. She is honest and has integrity. I will use her services again should I ever be in need of a real estate agent, and I recommend her wholeheartedly.
~ Deron S.
I first met Jennifer when she provided my consumers with Speech Therapy services. I knew at that point, that if I ever needed someone who was reliable, efficient, and well informed Jennifer would be my go-to person. When my family decided to move from out of town to Tallahassee, I had no doubt Jenn would be our realtor. What an amazing experience I had with her! I had never purchased a home, much less one for someone else all on my own. She was so committed to do whatever she could to ensure we found the right home at the right price. It was quite an ordeal being that our situation was complicated, but Jennifer never broke a sweat. I highly recommend Jenn to anyone that wants to navigate the realty market with ease and peace of mind. Thank you Jenn, we love our new home!
~ Suehay Diaz
---

Sorry we are experiencing system issues. Please try again.