We know that buying or selling a home may be the largest and most important financial decision you will make. The last thing you need is one more fee added to all the other expenses involved with this process. Unlike many other agencies, Armor Realty will never charge a "Transaction Fee" that is above and beyond the normal commissions we receive. We are a full service company, placing your needs and goals at the top. We will never charge additional "Transaction Fees" for our services."
Mission Statement
Armor Realty is committed to providing superior professional real estate services in an environment that embodies trust, integrity, and a sharp focus on customers' needs. Our goal is to exceed the customer's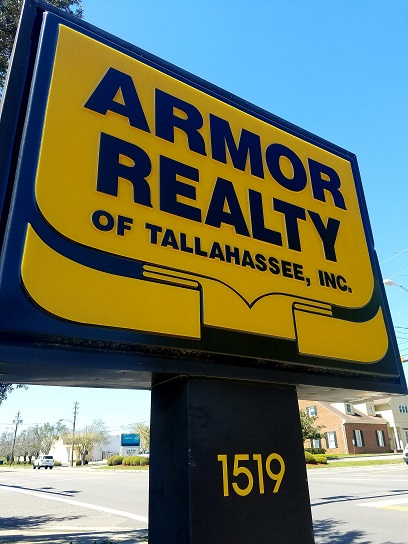 expectations in every single transaction and to form a strong, loyal bond that lasts a lifetime.
Why Choose Armor Realty?
Armor Realty has been serving Tallahassee and the surrounding communities since 1989 and is a TOP Ranked Independent real estate company in the Florida capital region. As an independent company, Armor Realty can ensure you are working with top local experts whether in the greater Tallahassee area, the coast of the panhandle, or even southern Georgia. We do not report to a head corporate office and therefore, are better able to create and implement a custom approach to your unique real estate needs. We are your neighbors. We've grown up, gone to school, and built our own lives here. Our Agents know the ins and outs of this town, better equipping them with the skills and expertise needed to help you find "The Way Home."
Our Agents use a combination of the latest marketing techniques, local knowledge, and cutting-edge technology to ensure your real estate journey is highly successful. We understand that the purchase or sale of your home may be the most important transaction in your life so we treat you with the utmost skill, care, diligence, and respect possible.
Our Broker/Owner, Mark Trafton IV, is a Tallahassee native and non-competing broker, which means he is sharply focused on the needs of our customers and agents. Mark's time is spent training, educating, mentoring, and offering assistance to agents and our customers throughout the transaction. Over the years Mark has built an incredibly supportive, close-knit, friendly atmosphere that has resulted in an environment where all customers and agents are treated as "family." In addition, Mark and Armor Realty Agents maintain a constant and positive presence with the Tallahassee Board of Realtors and throughout the community earning us the reputation as a leader and "go-to" source in the real estate markets we serve. Because of this, we know your real estate journey will be a pleasant one!
Armor Realty has been providing top notch service to Florida's Capital Region since 1989 and is now licensed in both Florida and Georgia to better serve the needs of customers, neighbors, and friends.
We thank you for taking the time to view our website and we look forward to
the opportunity to serve you!